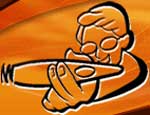 The Stinky Cigar Brand is a line of cigar accessories, specifically ashtrays, manufactured by Stinky Ashtrays. The company was founded in 2004 and is based in Las Vegas, Nevada. Stinky Ashtrays produces ashtrays with large cigar holders that are designed to accommodate even the largest of cigars.
Their products are made from stainless steel or other high-quality materials and are known for their durability, functionality, and sleek design. Stinky Ashtrays offers a variety of designs and finishes, including polished stainless steel, matte black, and hammered copper. Some of their ashtrays are also designed with windproof features for outdoor use.
In addition to their ashtrays, Stinky Ashtrays also produces other cigar-related accessories, such as cigar cutters and lighters. The Stinky Cigar Brand has become popular among cigar enthusiasts who appreciate the quality and functionality of their products.