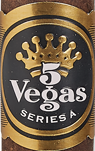 The 5 Vegas Series 'A' brand is a line of premium cigars that is highly regarded among cigar enthusiasts. These cigars are handcrafted in Nicaragua using a blend of high-quality tobaccos from Nicaragua and the Dominican Republic.
The 'A' in the name stands for "Authentic" because this line of cigars is made in the traditional Cuban style, with a focus on delivering an authentic smoking experience. The Series 'A' cigars are wrapped in a beautiful and oily, Cuban-seed Habano wrapper that provides a rich and flavorful smoking experience.
The 5 Vegas Series 'A' brand delivers robust, medium to full-bodied flavors, including coffee-like notes, dark chocolate, toasty earthiness and subtle spices. The dark toothy Costa Rican maduro wrapper encases a 3 country long-filler blend of 4 year aged tobaccos. Presented inside dark and attractive Spanish cedar boxes, each cigar is also dressed in cedar sleeves.
The Series 'A' line includes several different sizes and shapes, including robusto, toro, and Churchill. Each cigar is carefully crafted to ensure a consistent draw and burn, as well as a complex and satisfying flavor profile.
The Series 'A' brand is known for its full-bodied flavor and expert craftsmanship. The tobaccos used in these cigars are aged for a minimum of five years, which allows them to develop deep, rich flavors and aromas. Whether you're a seasoned cigar aficionado or a casual smoker, the 5 Vegas Series 'A' cigars are sure to impress.